We are facing one of the worst public health crises in history, and the current response is inadequate.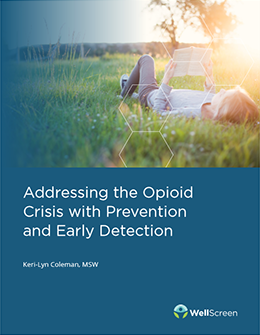 A result of the perfect storm, where opioids are overprescribed, people lack adequate knowledge about the opioids they take, heroin and deadly synthetic opioids are widely available, and prevention and early intervention strategies are underutilized, the opioid epidemic continues to plague our nation.
Learn how prevention, early detection, and appropriate intervention through evidence-based tools, like SBIRT and BOOK, can begin to successfully address the opioid crisis in this e-book available from Wellscreen.